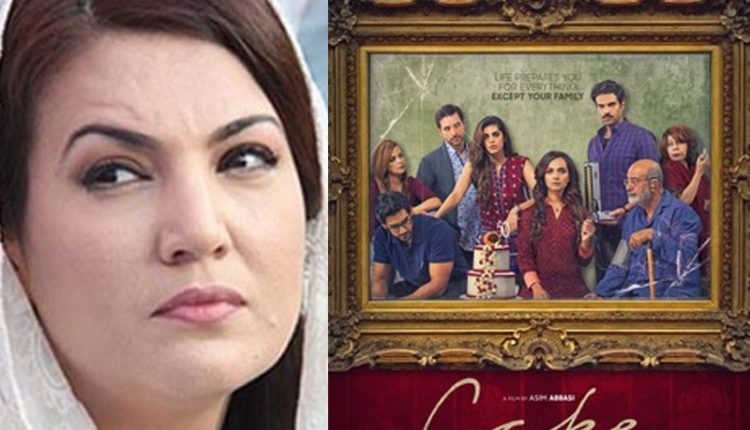 Reham Khan under fire again for criticising Cake submission to Oscars
After Aamina Sheikh, Sanam Saeed and Adnan Malik's 'Cake' selected as Pakistan's official submission for 91st Academy Awards. Reham Khan came out to criticise the move as Zulfi Bukhari produced the film. Zulfi Bukhari; a close friend of her ex-husband and Prime Minister Imran Khan.
Taking to Twitter, Reham criticised how the prime minister's friend's film selected for Oscars nominations.
Who says you can't have your 'cake' & eat it too?
Zulfi Bokhari friend of the PM now gets his film selected to be sent in as Pakistan's entry to the Oscar's too.

— Reham Khan (@RehamKhan1) September 19, 2018
The team behind the film was however not happy with Reham's comments and condemned her tweet against the movie.
Cake's director Asim Abbasi responded that it was a strange insinuation discounting their hard work and committee's decision making.
"I understand that our storytelling (unlike her storytelling) lacked nautanki and masala but still. What a strange insinuation discounting our hard work and committee's decision making," the movie's director wrote.
Adnan Malik, the lead actor of the movie, said that it looks like an odd and unfair assertion.
"What an odd & unfair assertion, completely disregarding the integrity of the respectable Oscar committee members. With diverse political ideologies, as well as the calibre of the film itself, which was critically acclaimed across the board (including 4 stars in the Guardian, U.K.)" the actor said.
Meanwhile, Kamila Shamsie, a member of the Pakistani Academy Selection Committee. She also hit back at Reham saying 'Cake' was the best movie in the running. And she had no idea about this..
BBC journalist Fifi Haroon said, "Cake's selection as Pakistan's official entry to the Oscars is well deserved. It's a great film. There was no need for Reham Khan to negate that because she wanted to score a political point against her ex."
The Pakistani Academy Selection Committee, chaired by Sharmeen Obaid-Chinoy, has selected Cake to be submitted for Oscar consideration in the 'Foreign Language Film Award' category at the Oscar Awards 2019, a local publication reported on Tuesday.