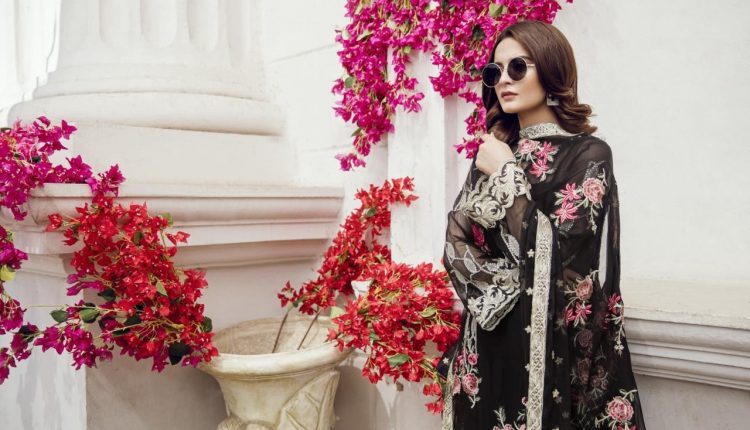 Top 7 Pakistani brands for Best Chiffon collection
In case if you are searching for some best chiffon collection then you landed at the right place. Here, I have listed the brands that have got the best collection of chiffon dresses. Though the weather of Pakistan is getting warmer day by day and you cannot wear chiffon all year round not even on Eid festivals now because it's too hot on Eids also. So, usually, Lawn is a perfect choice for the Pakistani weather. But still, the grace that you get in chiffon dresses cannot be compared with any other fabric. Especially if there is some function in your family and you can't wear those heavily embellished "kaam waly joray" or if you are getting married and you want to have something nice in your wardrobe for all those "shaddi dawats" then chiffon is your go-to luxury fabric.
Best Chiffon Collection:
I am listing here my personal favorite Pakistani brands for chiffon collection. All of them offer unique designs and details.
1) Baroque
One of the most popular brands for chiffon apparels! The quality of their fabric is really good and their major focus is on the embroidered and traditionally crafted designs. They have got the dresses that fall in different ranges so you have a vast choice here. They basically have two sub-brands "Chantelle" and "Fuchsia." Chantelle comprises of exclusive chiffon dresses and in Fuchsia you can get a wide variety of chiffon and lawn dresses at very affordable prices.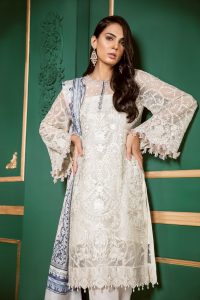 2) Asim Jofa
Asim Jofa is a little expensive brand but the embellishments are Wow! Have you just checked out their Mysorie Chiffon? It has got rich embroidery along with beautiful color combos! Their luxury chiffon is the best for wedding functions.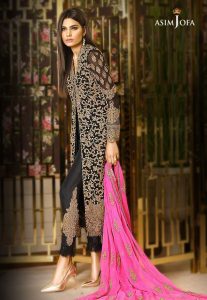 3) Maria.B
The innovation that Maria B brings in her dresses is always commendable. The Mbroidered collection offers chiffon dresses of diverse colors with beautiful embellishments and details.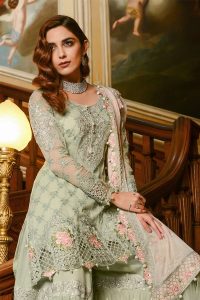 4) Jazmine
Whether you want chiffon apparel for a party or a wedding function or any other formal gathering, this brand has got it all. With exceptional embroidery, exclusive design patterns and diverse array of colors, this brand has made its name.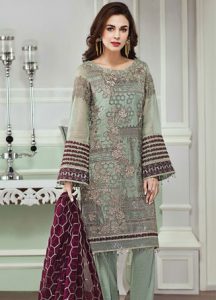 5) Imrozia
I am very hesitant when it comes to online shopping. A month back, I ordered one of the dresses from their new collection "La Brise de L'ete" and I totally loved it. The colors were exactly the same as shown in the picture and the 3D surfaces, Oh my God, really appreciable. I loved it. It is the best choice for semi-formal dresses. They retained the elegance along with the rich and darker color tone of dresses. So, even if you have not tried darker shades before, I would recommend you to give it a try. I am sure, you will not regret.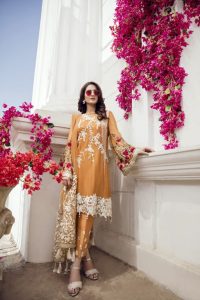 6) Aayra
However, they do not have a very wide collection but it seems like the brand focuses on the quality over quantity. The two chiffon volumes that have been launched by the brand are beautifully crafted.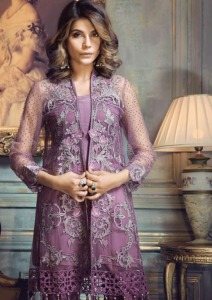 7) Rang Rasiya
Here comes my very favorite brand Rang Rasiya. I blindly trust this brand for my lawn dresses. They have got a very limited collection of chiffon dresses. Only a few pure chiffon and missouri chiffon dresses were launched in their CHATOYER WEDDING COLLECTION and almost all of them are sold out now but the reason of ranking it here is to tell you guys that KEEP A CHECK. If next time they come up with a chiffon luxury collection then grab your pieces as chiffon apparels that they launched previously, were so amazing.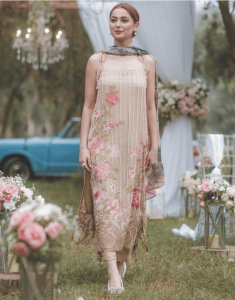 So, ladies!! Get your hands on your favorite chiffon dress 😉