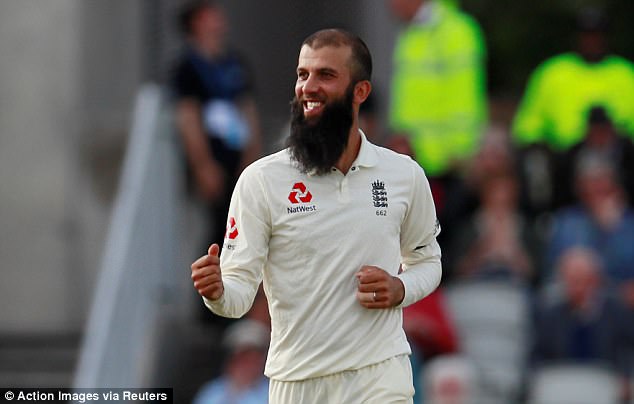 Moeen Ali said an Australian cricketer called him Osama on field
England all-rounder Moeen Ali said, an Australian player called him 'Osama' during the 2015 Ashes series.
Ali's allegation was made in his autobiography, an extract of which The Times newspaper published in Saturday's edition.
Cricket Australia announced it is launching an investigation, saying the comment was "unacceptable".
Moeen, a practising Muslim, said he was on the receiving end of the slur. A reference to Osama bin Laden, from an unnamed opponent during his Ashes debut against Australia in Cardiff three years ago. A match where he scored 77 runs in the first innings and took five wickets.
"It was a great first Ashes Test in terms of my personal performance. However, there was one incident which had distracted me," wrote Moeen.
"An Australian player turned to me on the field and said, 'Take that, Osama'.
I could not believe what I had heard. And I remember going really red. I have never been so angry on a cricket field," added the 31-year-old Worcestershire left-handed batsman and off-spinner.
A Cricket Australia spokesperson, quoted on the governing body's www.cricket.com.au website. It said in response to Moeen's allegation, "Remarks of this nature are unacceptable and have no place in our sport, or in society."
"We have a clear set of values and behaviours that come with representing our country. We take this matter very seriously, and are following up with the England and Wales Cricket Board (ECB) as a matter of urgency to seek further clarification around the alleged incident."
The ECB, when contacted by Britain's Press Association news agency, said it would not comment on the incident at this stage.
Moeen said the Australia player in question had denied making the comments to him at the time.
"I told a couple of the guys what the player had said to me and I think (England coach) Trevor Bayliss (who is himself Australian) must have raised it with Darren Lehmann, the Australians' coach," he said.
"Lehmann asked the player, 'Did you call Moeen Osama?' He denied it, saying, 'No, I said, "Take that, you part-timer."
"I must say I was amused when I heard that for there is a world of difference between the words 'Osama' and 'part-timer'."
"Although I couldn't have mistaken 'part-timer' for 'Osama', obviously I had to take the player's word for it, though for the rest of the match I was angry," he explained.