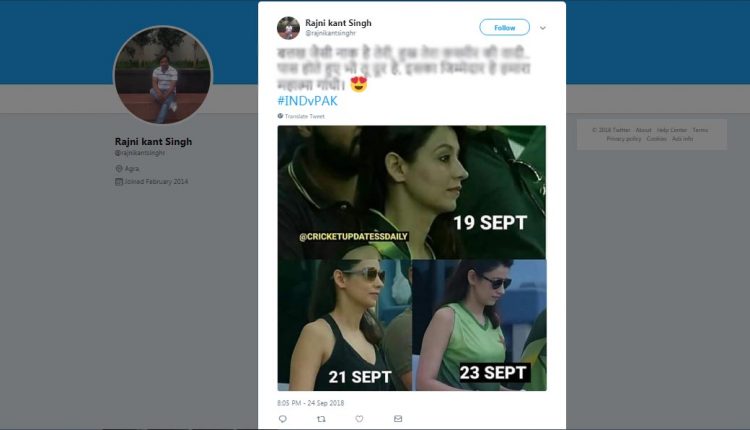 Who's that girl? Mysterious Constant Pakistani Fan catches attention of Social Media
DUBAI: Asia Cup 2018's fever is at hundred and four nowadays. People are sharing even a teensy detail about it on social media. Apparently, nothing hides from social media users. Pakistan faced India twice this Asia cup. And unfortunately lost both times. Fans from both sides watch these matches with full attention. Hence, they miss something is out of the question. Same happened with this mysterious girl, wearing Pakistani tea shirt in Asia cup matches.
Despite the fact that Pakistan has been hammered twice by India in Asia Cup 2018. But pictures of a female Pakistani fan girl have won hearts on the other side of the border with her consistent presence to support the team in green.
While Sarfraz Ahmed's team has not been able to make a mark in the multi-nation tournament, this Pakistani fan is a social media buzz in the cricket frenzy India.
"She's More Consistent Than The Entire Batting Unit Of Pakistan," one Twitter user wrote.
Which is true since she always appeared, while most of our players ghosted on us.
The social media too is following her with great interest as every time she appears at the stadium, pictures of her start circulating on the internet with fans making memes of this mysterious girl.
"Wo Aa Gayi… Dekho Wo Aa Gayi…," another one shared.
Now as Pakistan will face Bangladesh on Wednesday. All eyes are on her. Let us hope she appears and get a good watch this time.
This is the power of social media. Anyone can be famous overnight. Also, it is a good way to change your mind, while your team is busy breaking your heart.
On the other hand, all these posts might catch her attention. And we can finally know the whereabouts of the mysterious constant fan on the Pakistani side.