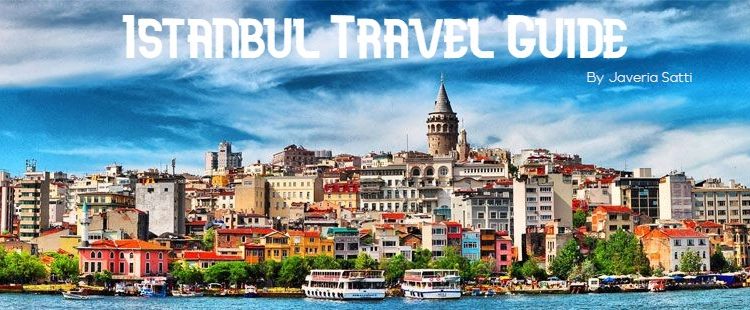 In my previous travel blogs (Balochistan, Fairy Meadows), I wrote about my travelling experiences within Pakistan. This is my first blog on international visit. I visited Istanbul for the first time and the city inspired me in so many ways. In my upcoming blogs, I will let you know that why Turkey is a must visit country. However, in this blog, I will write about Istanbul only (the city which stole my heart away). Here, I have tried to provide a complete guide for the first timers. This Istanbul Travel Guide will help you in planning the whole trip on your own without getting the services from any Trip Planners.
1) How to Apply for Visa:
The Visa process is very simple as nowadays you can get everything online. You just need to download the Visa Application form from Gerry's official website and fill in the required details. Most of the people get the services from tourist organizations for their visa processing but I will recommend you not waste your money and get it done on your own as the process is quite simple. After filling in the application form, you need to collect the documents as stated on the website and then submit in the Gerry's office near to your location. You will get the answer of your visa in 15 working days after submission. Try to provide as much details as you can in order to make your Visa application strong.
2) Which airline to choose?
After you got your Visa, the next thing to get is your airline booking. Most of the people only reserve the airline tickets for visa application and not buy the ticket because if your visa gets rejected, the ticket would be wasted. What you should do is that you can apply for the visa timely so that after the visa confirmation you can book your air tickets at least 1 or 1.5 month before travel so that you can get it on cheap rates. Turkish Airline provides good service but is little expensive. You can search for other airlines which provide tickets at cheaper rates. When I bought my ticket, at that time there was a 50% off on Saudi Airlines, so you can also check if any airline is offering sale option.
3) When to Visit?
I visited Turkey in December. Though it's too cold in December there but I would never recommend anyone to visit Turkey in summers. As in summers, there are a lot of visitors so you cannot enjoy the real beauty. However, the best time to visit the country is October or March-April.
4) Where to book your hotel in Istanbul?
This is a very important question which should be addressed in this Istanbul Travel Guide. This is a very basic question which comes in your mind whenever you plan a trip to somewhere especially out of country. I booked the hotels through booking.com. It is an amazing platform for booking hotels of your choice. Before booking, you must check the reviews posted by people and you can also check the pictures of the hotel rooms posted by guests on Trip Advisor. The reviews will help you a lot in booking a good room. In Istanbul, you should book your hotel in Old City Sultanahmet as all the famous places are located in this area. While booking your hotel, you should also check that how far the hotel is from all major attractions.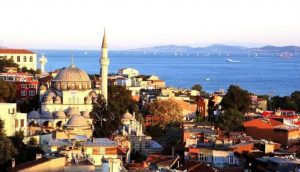 5) How to travel in Istanbul?
DO NOT take a taxi!!! It will cost you too much. If you want to make your trip budget friendly, then the best way is to get Istanbul metro card. You can use this card for city buses as well as trams. The Ataturk Airport is quite far away from Old City Sultanahmet. You can take an underground tram from Ataturk Airport which will take you to Yenikepi. From there, you can take another tram to Old City Sultanahmet. Almost all the tram and bus routes are available on Google Maps. However, all the major attractions are near Sultanahmet so you can visit them by foot if you are staying in Sultanahmet.
6) Where to eat in Istanbul?
Totally depends on your taste and budget. There are pretty good small restaurants in Sultanahamet which serve food at reasonable prices. I loved Turkish street food. Here, I am listing some street food which you should try in Istanbul.
1) Simit- Ring shape baked dough. You can find it almost everywhere in the streets of Istanbul.
2)Dilli Kaşarlı Tost- Grilled cheese toast with beef
3)Döner- Famous street food. It is something like a burger.
4) Dondurma- Tradational turkish icecream. It's bit thick and stringy.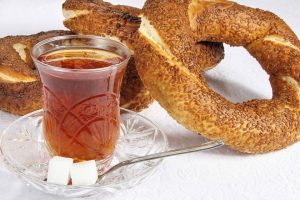 If you want to experience some "dinner date" kind of thing then the restaurants under Galata bridge are the best option. You can enjoy a nice Bosphorous sea view along with your food there. The restaurants serve a wide variety of sea food though I had not tasted their sea food so can't say anything about it. I had a dinner at Galta Sembol Balik hotel and I loved it!!! Loved their grilled Kebabs. There are also some nice restaurants in Istiklal Street. Oh! And do try famous Turkish dish called "Iskander." It's a grilled lamb topped with tomato sauce and butter, served with yogurt and pita bread (Yummiestttt)….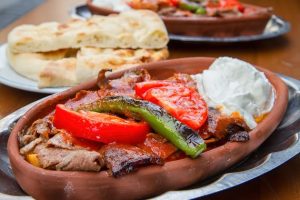 Istanbul Travel Guide–Places to Visit in Istanbul: 
1) Haghia Sophia, Blue mosque and Basilica Cistern 
Haghia Sophia was built as a church in the reign of Byzantine Emperor Justinian. When he visited the church for the first time in AD 536, he said "Glory to God that I have been judged worthy of such a work. Oh Solomon, I have outdone you!"
When the Ottoman armies conquered Constantinople, the church was converted into a mosque and late in 20th century it got converted into a museum. This is one the must visit places in Istanbul.

Blue Mosque is named so because of its interior in which thousands of Iznik tiles are used. This mosque defines the beauty of Ottoman architecture. Blue Mosque is on a walking distance from Haghia Sophia. The mosque is closed for visitors half an hour before the Azaan timings.
Basilica Cistern, located close to Haghia Sophia and Blue Mosque, is an underground hall kind of place. It is supported by 336 columns in 12 rows and was used for storing the water supply for Byzantine emperors.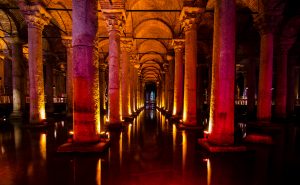 2) Visit Topkapi palace and Dolmabahçe Palace
Is the Istanbul Travel Guide complete without mentioning palaces? Obviously not!
Topkapi palace was first built by Sultan Mehmat in 15th century. This huge palace is located beside the Bosphorous sea. It displays the dynamic Islamic art and beautiful hand painted tile work.
Harem is the most popular area of the palace (the area where sultan's many concubines used to live). In the Third Court area of the palace, there is a Safekeeping room which contains a collection of relics of the Prophet Muhammad. You need 3-4 hours to fully visit the palace.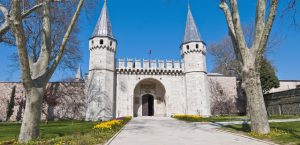 Dolmabahçe Palace!!!! I left my breath when I saw it…. So royal and sumptuous. It was built by Sultan Abdülmecid I in 1854. After its completion, this palace was used as the residence of the Sultans. The French-style furniture, huge and dazzling crystal chandeliers, the ceilings, sea view beside the palace, everything is so ROYAL!!!
3) Visit grand bazaar and spice bazaar
If you are a shopping freak, the this is your place to go. However, I do not recommend shopping from Grand Bazaar or Spice Bazaar as these markets are little expensive than the other road side bazaars in Istanbul. But even if you don't want to shop from there, still you must visit these two bazaars.
For buying Turkish delights, I would suggest a market outside the spice bazaar. That one is quite reasonable as compared to spice bazaar.
4) Take a night cruise
Take this cruise to get the entertainment, dinner and spectacular views of beautifully illuminated palaces, mosques and Bosphorus bridges of this dream city.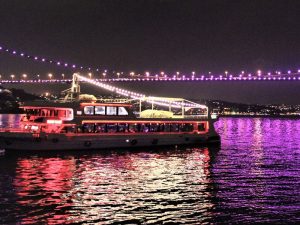 5) Enjoy city view from Galata tower
Galata tower is a must visit place for getting the panoramic views of Istanbul from the top. The best time to visit is in the evening so you can get the day light as well as the night view of the city. But the place is super crowded, and you need to wait in long lines to get your tickets, so keep that factor in mind as well.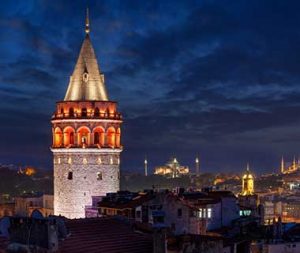 6) Visit Istiklal street and Taksim Square
Want to get some modern touch? Visit Istiklal Caddesi which is a modern shopping street. This place is also good for food lovers as it has got a lot of restaurants and cafés. However, it is far from Old Sultanahmet but you can take a tram near Galata bridge to reach there. Taksim square is at one end of the Istiklal street.
7) Take a ferry ride to Princes islands
For this, you need one whole day.  Princes Island is basically a chain of nine islands in Marmara Sea, among which Buyukada is the most popular tourist location. You can get there on a ferry. It is a vehicle-free island, so people rent a Tonga ride or a bicycle for visiting the location.
I hope my Istanbul Travel Guide will help you in planning a perfect trip 🙂 In case if you need any additional travel guidance, you can reach me out through email (javeriasatti@yahoo.com). Have a nice trip!!