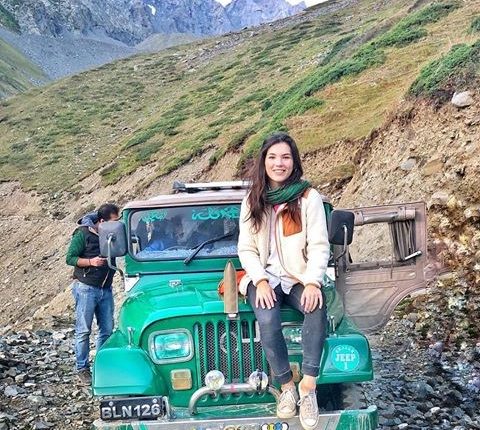 Remember the video of a polish travel blogger doing the kiki challenge? On a PIA flight?
That triggered NAB.
Holding flag of Pakistan on her back, Eva zu Beck collaborated with PIA to wish independence day in her own version.
While NAB disapproved of her try to fit in. Many thought the video helped to improve Pakistan's image worldwide. Looking at her latest Instagram post, we can say the latter might be right.
·
She wrote"Today an  Instagram friend reached out to me with a problem: a video of hers went viral and started attracting some negative attention. Stressed out, she was seeking advice from the right person
😅🤷
‍
♀️

.
Well. Your face – as opposed to your content –
"
going viral" is an incredibly stressful experience. See, three weeks ago, I read in a DM – "look, you're on TV!".
.
I switched on the television. And that's how it all started. Suddenly, I found myself aired on all TV screens in Pakistan; discussed on all social media channels; written about in all newspapers, print and digital. My face was EVERYWHERE. My name was trending on Twitter, my Instagram was blowing up and I couldn't keep up with the number of messages I was receiving. The whole country was talking about me. And I couldn't understand any of it – it was all in Urdu.
.
During those first few hours, I was in such a state of shock that I became numb. Feeling like I was having an out-of-body experience, I merely watched my next video uploaded to TV within minutes of uploading it to my own Instagram. I thought that by this point, everything was out of my control.
.
As the shock wore off, stress started kicking in. That anxiety of "what next?", that gnawing feeling in the pit of your stomach, the fear I'd have to leave the country.
.
But I was lucky. Lucky to have close ones who kicked me in the butt, saying "go and do something about it". You know who you are – thank you
❤️

.
See, I faced a choice: either I could hide in a corner, ignore the storm and passively hope for the best; or I could attack it head-on and use that time to draw attention to what really matters to me: promoting tourism in Pakistan.
.
The latter was my only choice. As terrifying and nerve-wracking as it was, I grabbed that bull by the horns and slowly shifted a problem into an opportunity.
.
I started talking to TV hosts and journalists all over the country about tourism in Pakistan. About how much promise there is here, about the importance of promoting it to the world.
.
That is still the mission. Thank you all for your support & for being part of it. And remember: every problem is an opportunity in disguise.
✨"