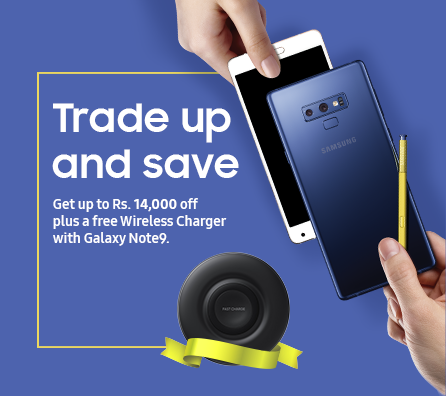 Samsung puts a sweet exchange offer on the table
ISLAMABAD -Samsung Pakistan has recently started its trade-in service for the new Galaxy Note 9, netting users a generous Rs. 14,000 discount on their purchase.
You also get a free wireless charger with your purchase, making the deal even sweeter.
Do note that only Samsung phones are eligible for trade ups, and only recent flagship phones like the Galaxy S8, S7, Note 8 etc. Unfortunately the list of phones from other brands is not available.
Here's the list of eligible phones:

Once your phone is evaluated, it will be categorized into three different slabs, based on the condition of your phone.
Note that if your phone doesn't turn on, has a badly damaged screen that doesn't respond to touch or if it doesn't charge, it won't be eligible.

Once you get a Note 9 smartphone, you'll be able to transfer all of your data using the Smart Switch app.
As mentioned earlier, you will need to go to a specific "Samsung Lounge" to trade your phone. There's at least one in every major city including Lahore, Karachi, Islamabad/Rawalpindi, Faisalabad, and Peshawar.

The offer is valid from August 31st, 2018 to December 31st, 2018.
For more information, you can also call Samsung's helpline at 0800-72678. You can find all the terms and conditions for this offer here
Know a few things about Galaxy Note 9 here.
The Note 9's 6.4-inch screen just a bit larger than the Note 8's 6.3-inch display. The Note 9's fingerprint reader moves below the cameras, rather than off to the side like on the Note 8, and the Note 9 adds a second speaker for stereo sound, just like on the Galaxy S9 phones.
The Note 9 has a 4,000-mAh battery, compared to the Note 8's 3,300-mAh. Qualcomm's newer Snapdragon 845 chipset replaces the Note 8's Snapdragon 835 processor. The Note 8 launched with Android 7.1.1 Nougat. Samsung's custom software layer for the Note 9 is called Samsung Experience 9.5.